Receive Shiny Eternatus at video game shops!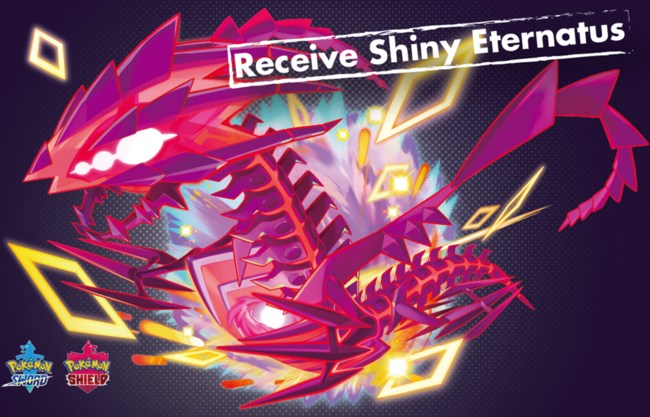 To celebrate the release of "Pokémon Scarlet" and "Pokémon Violet", you can get Shiny Eternatus for your "Pokémon Sword" and "Pokémon Shield" at designated video game retailers starting September 16 (Fri)!
A decent amount has been prepared, but the distribution will end once the codes have ran out.
[How to receive the serial code]
Tell the staff at the designated store that you would like to receive Shiny Eternatus.
Please check the Store List at the bottom of this page for the designated stores.
[Eligible Game]
"Pokémon Sword" and "Pokémon Shield"
[About the serial code]
You will receive a leaflet printed with a serial code to receive Shiny Eternatus for "Pokémon Sword" and "Pokémon Shield".
Please note that it is only one copy per person.
[Caution]
The serial code can be used only once.
You can receive only once per saved data.
If you enter the serial code incorrectly 10 times, you will be temporarily unable to enter the code. Please try again after 6 hours.
Serial codes are not for sale. It cannot be reissued in case of loss, damage or defacement.